Kaspersky RectorDecryptor tool for eliminating Trojan-Ransom.Win32.Rector
Latest update: September 18, 2023
ID: 4264
Do you want to prevent infections? Be safe and private with new Kaspersky applications.
To download Kaspersky RectorDecryptor for free, click Download.
Trojan-Ransom.Win32.Rector malware encrypts JPG, DOC, PDF and RAR files on a computer and demands ransom for decryption. To decrypt the files encrypted by malware, use the Kaspersky RectorDecryptor tool.
To avoid infection:
Download and install new Kaspersky applications, which will protect your computer against screen-locking and file-encrypting malware.
How to decrypt files with Kaspersky RectorDecryptor
Download the Kaspersky RectorDecryptor tool.
Run RectorDecryptor.exe on the infected computer.
Carefully read the Kaspersky Lab End User License Agreement. Click Accept if you agree with all the points.
Click Change parameters.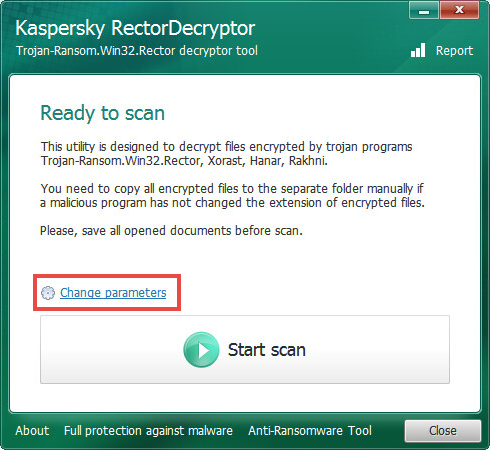 Select the checkbox Delete crypted files after decryption to delete the copies of the encrypted files with VSCRYPT, INFECTED, BLOC or KORREKTOR extensions.
Click OK.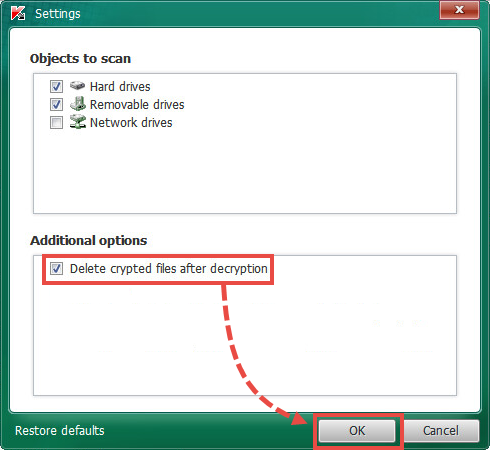 Copy the encrypted files to one folder (if folder extensions haven't been changed by malware).
Click Start scan.
Specify the path to the encrypted file or to the folder with encrypted files.
The report will be created on a system drive (usually, disk C:\). The report is saved under the following name: RectorDecryptor.Tool_version_Date_Time_log.txt.
How to use the tool through the command prompt
To view a list of the available command prompt parameters for the Kaspersky RectorDecryptor tool, use the command:
<path to rectordecryptor.exe>\rectordecryptor.exe -h
To use the tool from the command prompt, use the parameters in the table below:
What to do if the tool did not help